December 1, 2018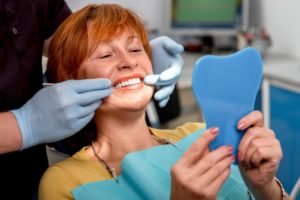 Did you know that a new study shows that older adults with sleep apnea have an increased risk of Alzheimer's disease? Those with sleep apnea exhibit higher levels of amyloid beta, which is the main component of the amyloid plaques that that typically characterize Alzheimer's. Keep reading to learn how receiving sleep apnea treatment in Aledo can help lower your risk of developing Alzheimer's disease.
What is Sleep Apnea?
The most common type of this sleep disorder, obstructive sleep apnea, occurs when your airway is blocked, which causes interrupted breathing during sleep. This disorder affects 34% of men and 17% of women, but it's estimated that 80% of sleep apnea cases remain undiagnosed.
What Are Some Common Risk Factors of Sleep Apnea?
Sleep apnea can affect anyone, no matter how old you are. However, your chances of having this sleeping disorder increase if:
You're male
You're overweight
You're older than 40
You have a large neck size (bigger than 17 inches for men)
You have family history of sleep apnea
You have large tonsils or a small tongue
You have a nasal obstruction
How is Sleep Apnea Linked to Alzheimer's?
Although there isn't a proven direct cause yet, multiple studies have suggested that sleep disturbances accelerate the cognitive decline experienced in those with Alzheimer's disease. Because they share a lot of the same risk factors, causality has been tough to prove. However, if minimizing sleep disturbances could mean less risk of Alzheimer's, sleep apnea treatment is definitely something to look into.
How is Sleep Apnea Treated?
Thankfully, dentists and doctors alike have begun to recognize and diagnose sleep apnea. Your dentist uses various treatments, including the use of an oral appliance. Your dentist can custom-make an oral appliance (like a mouthguard) that shifts your jaw in a way that keeps your airway open while sleeping. That way, you can breathe easier throughout the night and you'll be well-rested for the next day.
Another common way to treat sleep apnea is through the use of a CPAP (continuous positive airway pressure) machine. This treatment delivers continuous airflow through your nose to make sure your airway is open and that you're breathing regularly. Expert dentists use combined therapy to pair an oral appliance with a CPAP machine for the best results.
Although there is no direct causality between sleep apnea and Alzheimer's. Research shows that older patients with sleep apnea have an increase in cognitive decline. So, besides getting your good night's sleep back, you can add lowering your risk of Alzheimer's to the list of reasons to get your sleep apnea in Aledo treated.
Meet the Dentist
A graduate from the Baylor College of Dentistry with honors, Dr. Deborah A. Romack provides high-quality dentistry to all of her patients. She enjoys being able to help her patients sleep better, which makes them happier and more productive. She currently practices at Weatherford Dental Sleep Medicine, and she can be contacted through her website or by phone at (817) 594-3806 for any questions.
Comments Off on Can Sleep Apnea Treatment in Aledo Prevent Alzheimer's?
No Comments
No comments yet.
RSS feed for comments on this post.
Sorry, the comment form is closed at this time.