December 3, 2018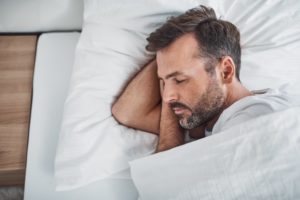 Oral appliances give those with sleep apnea a better night's sleep for more productive days. With proper day-to-day care, you can make your oral appliance last years to count sheep with confidence. Luckily for you, the cleaning and care of these appliances aren't extensive. Just follow these easy tips on how to keep your sleep appliance in Aledo clean and fresh for a great night's sleep.
Tip #1: Brush Your Teeth Before Wearing Your Appliance
Its important to make sure your teeth are clean before putting in your sleep appliance. Plaque and bacteria can live and grow inside of your oral appliance, putting you at risk for cavities and infection. That's why it's important to always brush your teeth before putting in your sleep appliance so you won't have to deal with dental issues in the future.
Tip #2: Rinse Routinely
Rinse and dry your teeth and oral appliance to make sure everything is clean before putting it back in your mouth. Water helps wash away bacteria and food debris that can get caught in your oral appliance.
Tip #3: Brush Your Appliance in the Morning
After your morning brushing routine, it's now time for your oral appliance! Use a soft-bristled toothbrush with toothpaste or clear anti-bacterial soap to clean it. Especially try to clean the nooks and crannies where bacteria can live.
If your oral appliance has an odor, it probably has bacteria in it, which means you should definitely give it a scrub. Just make sure not to use super-hot water because it could warp your appliance.
Tip #4: Give it Some Room to Breathe
Once you've cleaned your appliance, it's important to give it some air. Putting it in a dark, small, wet, or closed environment promotes the growth of bacteria, which is why you should let your appliance air dry.
Tip #5: Give Your Appliance a Good Soak
As little as once a week, you should soak your appliance in denture cleaner found at your local drugstore. This will give your appliance a deep clean that your day-to-day routine can't provide. Let your appliance soak for a few minutes, dump it out, and let it dry for the cleanest oral appliance.
Use these 5 tips to keep your oral appliance clean so it can continue to do its job of relieving you of sleep apnea in Aledo. That way, you can count sheep knowing that you aren't damaging your pearly whites.
Meet the Dentist
Dr. Deborah A. Romack takes pride in giving her patients a better night's sleep. She stays up-to-date on the latest in sleep apnea through continuing education courses. She believes in patient education, which is why she wants you to know how to best take care of your oral appliance. She currently practices at Weatherford Dental Sleep Medicine, and she can be contacted through her website or by phone at (817) 594-3806 for any questions.
Comments Off on How to Clean Your Sleep Appliance in Aledo
No Comments
No comments yet.
RSS feed for comments on this post.
Sorry, the comment form is closed at this time.