March 6, 2019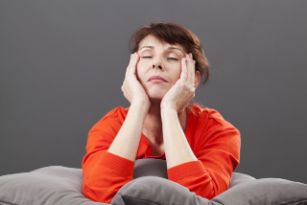 Did you know that around 80% of middle-aged women experience hot flashes and night sweats? In addition to being uncomfortable, these symptoms are also thought to increase the risk of sleep apnea. Women don't always exhibit the same symptoms of sleep apnea as men (like snoring), so they aren't always correctly diagnosed. But, since sleep apnea increases the risk for serious conditions like heart disease, obesity, stroke, and depression, it's incredibly important to recognize and treat it as soon as possible. Keep reading to learn more about how sleep apnea in Aledo is linked to menopause and how a dentist can help with both diagnosis and treatment!
What Are the Most Common Signs of Sleep Apnea In Menopausal Women?
During menopause, the hormones estrogen and progesterone decrease. Normally, these hormones help keep the airways open, so this decrease can change nighttime breathing and contribute to sleep apnea.
Here are some of the most common signs and symptoms that menopausal women with sleep apnea experience:
Hot flashes and night sweats
Mood disorders such as depression and anxiety
Forgetfulness
Insomnia and disrupted sleep
Chronic daytime sleepiness, fatigue, or a lack of energy
Headaches, especially in the morning
Restless leg syndrome
How Can a Dentist Help With Diagnosis and Treatment?
Finding out if you have sleep apnea is the first step, and an easy way to do that is scheduling an exam with a sleep medicine dentist.
They'll start by discussing your history and symptoms and examining your airway. Then they'll work with a physician to make the best treatment recommendations for your needs.
What Treatment Options Are Available?
Today, there are more options for sleep apnea therapy than ever, including:
Lifestyle changes – These recommendations are typically made in conjunction with other therapies and may include reducing alcohol consumption, weight loss, or even low-dose hormone therapy.
Oral appliance therapy – A dentist can custom-make a lightweight, portable device that repositions the jaws and opens the airway at night.
Combined therapy – For patients who don't get relief from just one type of treatment, combined therapy may be more effective. By wearing an oral appliance along with a CPAP mask, the machine can be used on a lower setting. This is much easier for many people than CPAP therapy alone.
Sleep apnea can seriously impact your health and quality of life. But with the right diagnosis and treatment, it doesn't have to!
About the Author
Dr. Deborah A. Romack is a general and sleep dentist with over 20 years of experience. Her goal is to help people minimize the effects of sleep apnea and get their quality of life back, and she's helped countless patients by providing simple, effective oral appliances. If you think you may have sleep apnea in Aledo and have any questions, she can be reached via her website.
Comments Off on If You're Dealing With Hot Flashes, Sleep Apnea In Aledo May Be A Factor
No Comments
No comments yet.
RSS feed for comments on this post.
Sorry, the comment form is closed at this time.