March 25, 2019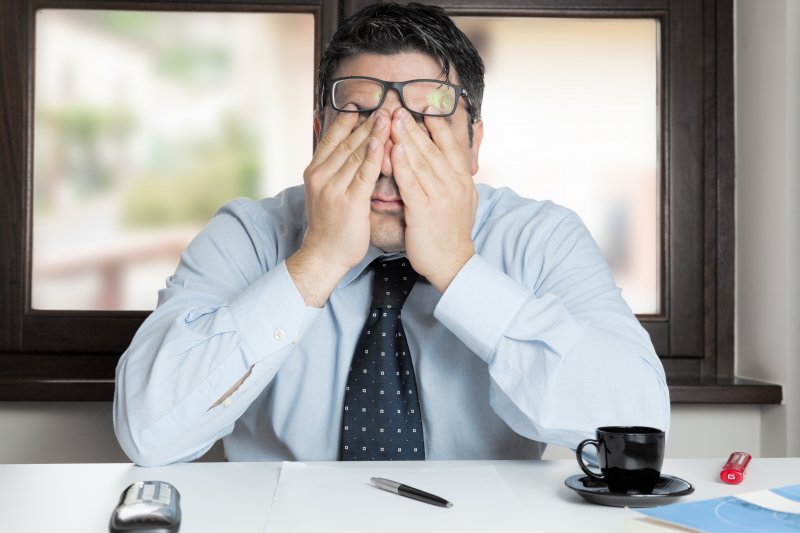 Do you suffer from sleep apnea in Aledo? You're not alone. Millions of Americans across the country suffer from this condition. Obtaining relief takes knowing the causes of the problem. In many cases, TMJ disorder plays a contributing role. Your dentist can perform a complete examination of your mouth, throat and jaw and recommend treatment solutions such as a nighttime oral appliance.
The Link between TMJ Disorder and Sleep Apnea
The factors associated with sleep apnea may also contribute to TMJ disorder and vice versa. For example, a misaligned jaw can cause airway blockage during rest. This in turn can set your nerves on edge and contribute to teeth grinding. Here are some ways that a qualified sleep dentist can help you to find relief:
By prescribing a nighttime mouthguard: anti-apnea versions of these products work by keeping the lower jaw in a correct position during rest. Such a mouthguard may also help to control your TMJ symptoms by preventing nighttime teeth grinding.
By suggesting lifestyle changes: TMJ disorder is often a symptom of a different problem entirely, such as uncontrolled anxiety or stress. Your dentist may recommend therapeutic injections, stress management techniques, or group therapy.
By recommending over-the-counter remedies: nonsteroidal anti-inflammatory drugs (NSAIDs) relieve the discomfort and inflammation associated with TMJ disorder.
By referring you to a surgeon: arthroscopic surgery has a solid track record of helping TMJ sufferers. As for sleep apnea treatment in Aledo, many sufferers have found relief through a surgical technique that removes excess tissue in the throat or upper palate. A medical specialist may recommend one or both procedures, depending on your final diagnosis.
Self-Treatment Options for Both Sleep Apnea and TMJ Disorder
Professional medical help is essential for treating both conditions. At the same time, it's also important for you to practice good self-care habits. With that in mind, here are some tips for enjoying better sleep and more productive waking hours:
Limit nighttime snacks: eating right before bed can make sleep apnea worse by encouraging acid reflux.
Try meditation or systematic relaxation: this has the potential of treating both your sleep apnea and your TMJ disorder at the same time, since psychological stress can aggravate both conditions.
Try a different sleep surface or sleep style: sleep apnea sufferers may find relief by laying on their side instead of their back. You may also want to consider investing in a mattress or pillow that offers better support.
Take stock of your diet and exercise habits: staying physically active and eating healthy foods can help you to lose weight, improve your nighttime rest, and feel more relaxed. These factors can make a huge difference where sleep apnea and TMJ disorder are concerned.
Your body is like a complex and wonderful machine. What affects one part of it also affects the rest. Keep this in mind as you work with your dentist to achieve your health and fitness goals. In times to come, you'll look back and smile at the progress you've made.
About the Author
Dr. Deborah A. Romack is a graduate of Baylor College of Dentistry and an expert on the treatment of sleep apnea. She's also skilled in treating oral health conditions such as TMJ disorder. You can reach her office online or by calling (817) 594-3806.
Comments Off on The Link between TMJ Disorder and Sleep Apnea in Aledo
No Comments
No comments yet.
RSS feed for comments on this post.
Sorry, the comment form is closed at this time.