October 4, 2019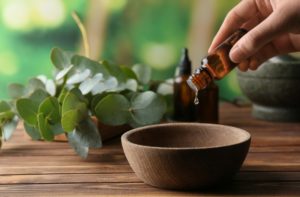 Do you lie awake at night just wishing you could fall asleep easily? Sounds like you could use some help getting some shuteye. One method of treatment involves using essential oils for sleep in Weatherford. Whether you have insomnia, sleep apnea, or some other sleep disorder, essential oils might be just the thing you need. Keep reading to learn about 6 essential oils and their benefits.
1. Sandalwood
Sandalwood has an earthy scent that many people find pleasant. Research has shown that it can be effective in managing anxiety symptoms that could be keeping you up at night. While it can have sedative effects in some people, it's important to note that sandalwood may increase wakefulness. If you find that sandalwood keeps you awake, try using it in the morning instead.
2. Citrus
Much like sandalwood, different citrus oils have been shown to produce differing effects in people. Lemon oil has demonstrated that it can relieve some depression and anxiety symptoms. Bergamot, a type of orange, oil can improve quality of sleep. Again, try it out to see if it promotes sleepiness or alertness with you.
3. Jasmine
In addition to having a sweet floral aroma, jasmine has been proven to improve sleep quality as well as cut down on anxiety symptoms. It can even increase daytime wakefulness after delivering high-quality sleep.
4. Rose and Geranium
Both of these floral oils can reduce anxiety and stress. They can be used on their own or in combination with other oils to achieve even more benefits.
5. Lavender
Lavender is one of the most classic remedies for anxiety and sleeplessness. It's the most widely researched essential oils. A recent study has confirmed that it even has pain-relieving properties. It can also increase daytime alertness in people with sleep disorders like insomnia and sleep apnea.
6. Vanilla
Vanilla is widely regarded as one of nature's sweetest smells, and it provides health benefits to boot. According to recent studies, it can lower blood pressure, quiet the nervous system, and reduce restlessness and hyperactivity. There are theories out there that it may help with anxiety and depression. If the smell of baking cookies puts you in a good mood, vanilla oil might help you sleep, without all the calories!
If you have sleep problems, try out one or more of these essential oils before bed. If that doesn't work, see your doctor or dentist for further treatment.
About the Author
Dr. Deborah A. Romack is a 1998 graduate of Baylor's College of Dentistry. Since then, she has practiced in Weatherford, TX with a special interest in sleep dentistry. She has attended extensive continuing education courses in treating sleep apnea in Weatherford. Her goal is to work with a patient's team of physicians to improve the patient's sleep and therefore quality of life. If you find yourself experiencing sleep issues, contact Dr. Romack at (817) 594-3806.
Comments Off on 6 Essential Oils to Help You Sleep Better
No Comments
No comments yet.
RSS feed for comments on this post.
Sorry, the comment form is closed at this time.