October 18, 2019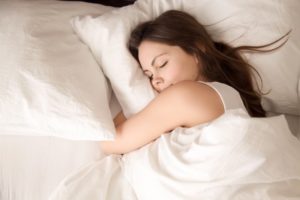 Although they were originally made for people with disorders like ASD and ADHD, weighted blankets have recently caught the attention of the general public, and for good reason. They have been shown to improve quality of sleep by lessening symptoms of anxiety and making it easier for you to shut down at night. Let's take a closer look at how they work, and the benefits of weighted blankets in Weatherford.
How Do Weighted Blankets Work?
Think of being enveloped in a big hug by someone you love. Think of how relaxing and comforting it would feel. That's the idea behind weighted blankets. Multiple studies have confirmed that gently applied pressure and touch have powerful effects on the body and mind. Weighted blankets are great at eliciting those effects.
These blankets have evenly distributed weight added to the whole thing. They exert what's known as "deep pressure stimulation." This kind of stimulation lowers arousal and decreases the body's fight or flight response. It has also been proven to lower blood pressure and heart rate, and increase general feelings of calmness.
What Are the Benefits of Weighted Blankets?
One major benefit of weighted blankets is that they stimulate the release of oxytocin, also known as the "feel-good" hormone. It creates feelings of closeness, attachment, and calmness. Think of the feelings you get when you receive a warm hug from someone close to you. That's oxytocin at work. Oxytocin levels go up during sleep, particularly during deep REM sleep. A 2017 study even found that higher levels of oxytocin during sleep may reduce the symptoms of obstructive sleep apnea.
Weighted blankets may also decrease cortisol, also called the "stress hormone." When you have high levels of cortisol, it can be difficult to fall and stay asleep. As your body progresses toward sleep each night, cortisol levels naturally go down, but stress and anxiety can increase them again. Using a weighted blanket can help your body naturally suppress the release of this hormone.
Finally, deep pressure stimulation from weighted blankets may increase serotonin, another "feel good" hormone that helps you stay in a relaxed state of mind. It also stabilizes your mood and regulates your energy levels. Low levels of serotonin have been linked to depression and anxiety, as well as irregular circadian rhythms.
As you can see, weighted blankets help with sleep disorders like insomnia and even sleep apnea. If you have been having trouble sleeping lately, consider getting a weighted blanket. If that doesn't help, see your local sleep dentist or doctor.
About the Author
Dr. Deborah A. Romack graduated with honors from Baylor College of Dentistry in 1998. She has an interest in sleep dentistry, treating sleep disorders like airway obstruction, snoring, and obstructive sleep apnea in Weatherford. She keeps up with the latest technology and knowledge that modern sleep dentistry has to offer through continuing education courses. If you have been experiencing sleep troubles lately, Dr. Romack can be contacted at (817) 594-3806.
Comments Off on The Benefits of Using a Weighted Blanket
No Comments
No comments yet.
RSS feed for comments on this post.
Sorry, the comment form is closed at this time.