July 19, 2021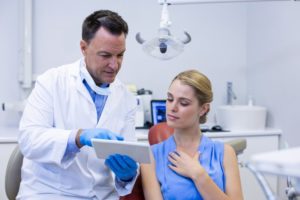 One of the symptoms of sleep apnea is daytime lethargy. This is quite understandable, given that frequent bouts of apnea decrease the overall time spent in deep sleep. As a result, you may find yourself prone to daytime naps. While it may seem perfectly harmless to snooze during the day, it turns out that it could possibly make matters worse. Continue reading to learn about the challenges associated with napping and sleep apnea in Weatherford.
Why Daytime Naps aren't Always Good
You may have heard how beneficial a quick, "power nap' can be, especially when you're behind on sleep. Unfortunately, it can interfere with the body's natural clock (especially for those with sleep apnea). Because sleep is cumulative, it can't be made up by getting bits of rest here-and-there.
Thus, attempting to slumber at times that are contrary to your body's natural sleep cycle sends mixed messages, further contributing to sleep interruptions at night. The optimal time range for sleep is between the hours of 11 pm and 8 am. Thus, as best you can, you want to get your rest within this period.
Why Naps aren't All Bad
Under normal conditions, a daytime nap can work wonders by increasing alertness and rejuvenating the mind. However, for people with a sleep apnea diagnosis, an unscheduled nap can leave them feeling unrefreshed.
Simple Ways to Improve Sleep
Over time, sleep deprivation can lead to inflammation in the brain, stroke, diabetes, hypertension, heart disease and even more life-threatening conditions.
Here are some helpful rest aids that won't interfere with your sleep apnea treatment:
Purposely skip naps.
Limit your consumption of alcoholic beverages, especially at night.
Discontinue the usage of electronic devices at least an hour before retiring for bed.
Incorporate a nighttime ritual like reading a book or meditating before going to bed.
Make sure your bedroom is completely dark when you're sleeping and unplug all electronic devices.
Stop eating around two hours before bedtime, so that your body isn't working to digest food instead of resting.
Time to Reconsider Your Treatment Method?
If you're currently being treated with a CPAP (continuous positive airway pressure) machine, you may consider trying another treatment method. For many patients, the machine is rather cumbersome and uncomfortable to use, which can inhibit the quality of sleep.
A more effective alternative is to have a custom oral appliance crafted. The smaller, portable device easily fits into the mouth and works to gently shift the jaw to prevent interruptions in your breathing while sleeping. By helping to encourage better sleep, it decreases the need for daytime naps and aids in the maintenance of your circadian rhythm.
If you're looking to improve the quality of your nighttime rest, it's worth contacting a sleep dentist in Weatherford. Therefore, you can be as healthy and alert as possible!
About the Author
Dr. Deborah A. Romack earned her dental degree from the Baylor College of Dentistry. She has since gone on to complete numerous continuing education courses in airway obstruction, snoring, Obstructive Sleep Apnea (OSA) and upper airway resistance syndrome (UARS). Dr. Romack uses the latest technology and equipment to effectively treat sleep apnea at Weatherford Dental Sleep Medicine, and she can be reached for more information or to schedule a visit through her website.
Comments Off on Can Daytime Naps Hinder Your Sleep Apnea Therapy?
No Comments
No comments yet.
RSS feed for comments on this post.
Sorry, the comment form is closed at this time.